#4 – NAME IN LIGHTS
IN TIME SQUARE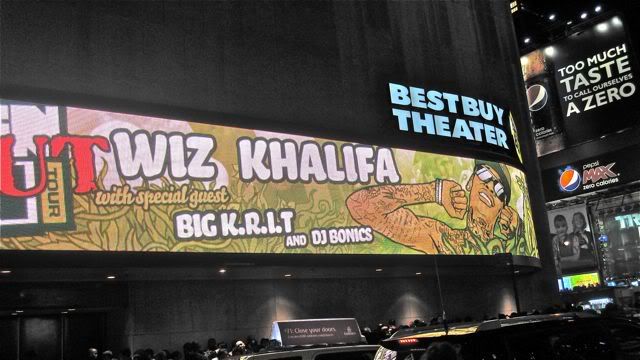 This is something that may never happen again!  Let's hope it will many times but it happening once!  On November 13th WIZ, the Gang and I got to to rock the Best Buy Theater, once known as the Nokio Theater in Times Square, NYC.  To my surprise not only did Wiz Khalifa's name soar in bright lights but mine as wel. I got to rock a 30 minute before Big K.R.I.T. on the "Waken Baken" tour making me me official tour support.  Looking my name, in lights, in time square is a dream full-filled.  Not bad Bonics, not bad…
#3 – Redbull Thre3style
Wow.  One of the biggest events that ever happened in my DJ Career.  For the first time ever in the United States Redbull held the Thre3style competition.  What is it exactly?  Dj's compete in 15 minute party rocking battle sets and the only stipulation is that you rock 3 different genres of music.  You would be judged on creativity, crowd response, stage presence, and originality.  When I heard they were having a the battle in PGH, I knew I had to do it.  I never been so nervous to DJ in my life.  Dj Jazzy Jeff was a judge in this semi-final and that meant I had to get busy.  Going up against 7 other peers in your city is not an easy task.  Also people expecting you to win is more than butterflies.  I won the PGH battle, which really held my place into PGH DJ infamy.  I was chosen as the best party rocker of PGH.
On October 8th, while on tour with WIZ, I detoured in Denver Colorado to compete in Thre3style National Championship!  I was up against the country's best for party rocking infamy.  Without much time to prepare because of tour.  I did not perform up to PAR.  But just being there was an honor.  What a feeling to perform with DJ's all around the country.  We were the first class and that is something to brag about.  Big shout out to Redbull, Danny Vogel, all the Pittsburgh DJ's and my new friends I met in Colorado!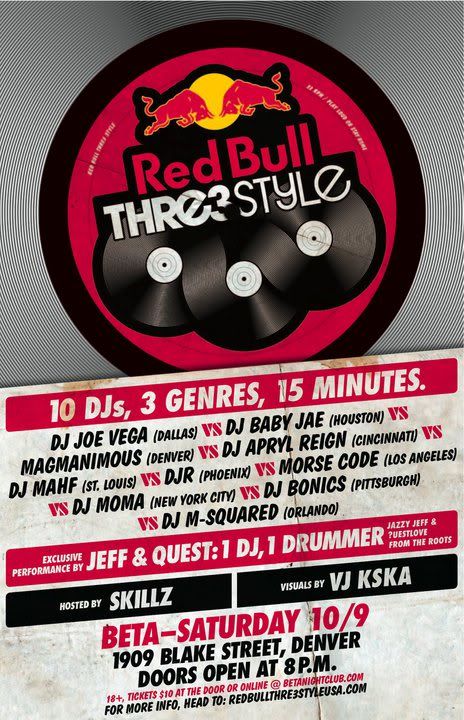 #2 – Wiz Khalifa "Waken Baken Tour"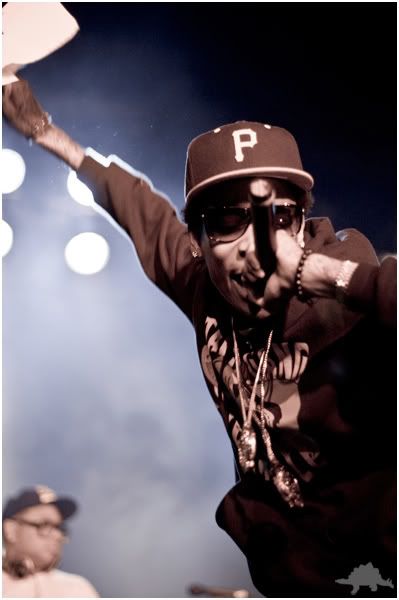 Leaving your full time job to full fill dreams its not any easy task.  I would say for most people it is hard to leave security.  I was at  WKST 96.1 Kiss Pittsburgh for 7 years.  For the last couple leading up to the decision I was the afternoon drive host, Music/imaging director, and mixer.  I had a pretty good salary (for radio). I also had health benefits and the whole 9.  Some even thought that I was crazy to leave the security that I had to leave for something that's future is unknown.  When Wiz Khalifa's camp ask me to tour with them on the upcoming "Rock The Bells" and "Waken Baken" tours I knew it was time to move on.  It wasn't a hard decision to make.  Rather it was a hard decision to accept.  I knew that I had the opportunity and I couldn't pass it by.  Security Vs. Unknown.  No one told me that Wiz was eventually going to have one of the most successful tours of 2010.  Nobody told me that he would come out with a single that would eventually go platinum.  To me, choosing the unknown is living.  What is life without spontaneity and surprises?  We played in over toured 56 shows in 28 states in U.S. and even Canada.  To be able to rock on stage in every major city in North America and in between is indescribable.  I am truly lucky to be apart of something like this… And this is only the beginning –  Thank you WIZ, WILL, BENJY, THE TAYLOR GANG, and all the fans….
-Dishonorable Mention-
30th Birthday Party
w/Angelina from the Jersey Shore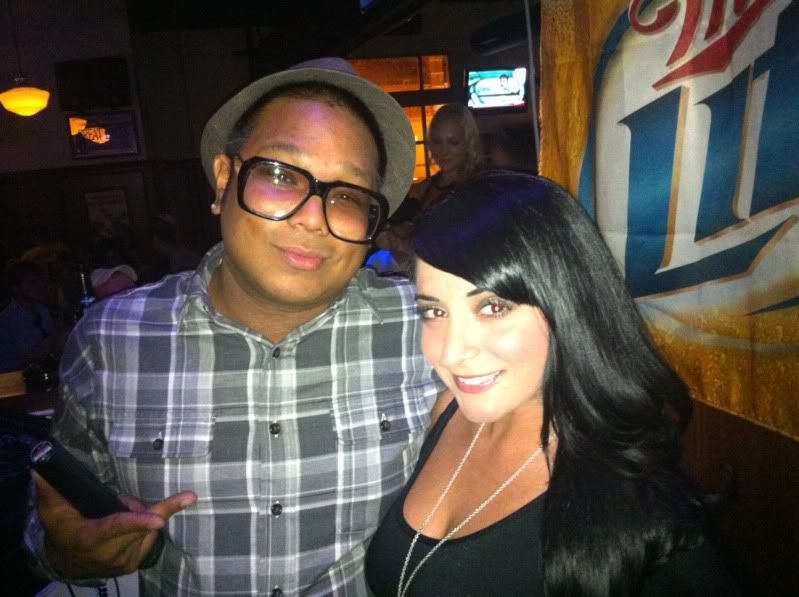 Ha Ha!  I don't know what is worse turning 30? or Angelina from the Jersey Shore!  HA! I had an awesome party at Mc Fadden's  in the North Shore.  Celebrating 30 is crazy! Sounds old but only as old as you make it!  I've been bless to have a great career so far/  I'm blessed to have the best family and friends!  It was an epic party and our surprise guest from the Jersey Shore, although hated by many, partied hard with your boy.  My man Wiz even stopped by and showed love.  For those people out there who may feel like there old it's never too late to make life interesting.  Turning 30 yrs old this year only ads to the crazy year it has been.  Thank you to Jamal and Angelina for making it a memorable birthday!!!