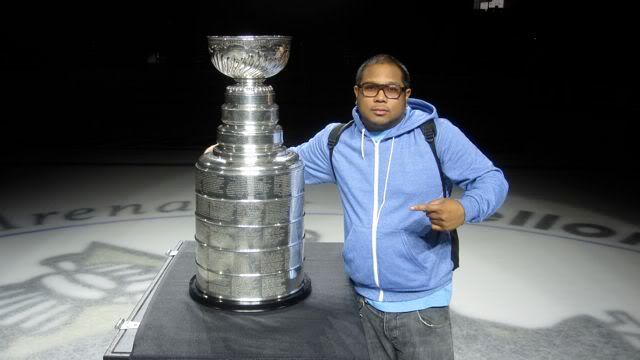 I'm not going to pretend to you guys that I've been a hockey fan my whole life. I don't dislike the sport but i was just more exposed to basketball growing up. I think Charles Barkley is the best athlete of all time!!! I did however love to play the EA Sports Hockey Games growing up. I think this is where most of my Hockey knowledge comes from. I still do not know what icing is. Good thing you can turn it off in video games. I also have been to a few games when i was in high school.
Living in PGH has definitely change my view on the sport. I appreciate what hockey means to PGH. Mario Lemuiex and friends in the early 90's brought the Stanley Cup to PIttsburgh and last year i was able to experience a great playoff and Stanley Cup adventure. Watching Sid, Malkin, and Fluery is so exhilarating, especially in person.
I was lucky enough to attend some games including the Playoffs. I watched the Final in Vegas from my hotel bar and found myself glued to the TV while the others around me enjoyed being in Vegas more. The Penguins season just made it a great summer in PGH. (Not to mention the Steelers Super bowl win earlier this year) It's great to see a city come to life for a sports team.
Whether or not you have an interest in the game, it's hard not to feel electricity of the PEN'S. But the excitement being able to SEE THE STANLEY CUP… wow. I think it would be cool to see the Stanley Cup regardless of who the current bearers are. But being able to see and touch the Stanley Cup…
-after your city's team win's it last season
-on center ice of the Mellon Arena
-on the day of the season opener
Makes it a little sweeter.
Then Pen's asked me last week to DJ outside of Gate 3 of the Mellon Arena to help kick off the season with host's Mikey and Big Bob from the Kiss Morning Freak Show. Despite the weather the fan's were out to watch the game on the Trib Total Media Big Screen..
The video below was this past friday. This is the first time i've every gotten this close to see The Stanley Cup. I understand that I am very lucky to have this experience. There's people out there who are HOCKEY NUTS and will never get to meet the Stanley. People work their whole life to win this thing. Their life dedicated. The Penguins and their fans deserve this. I am humbled.
Thank you to the Pen Organization for the love…
Click Here For BONICS' Stanley / Opening Night PICS
Click Here for FREAKSHOW Opening Night PICS